The Best Luxury Real Estate Brokerage Agency in Thailand
December 14, 2021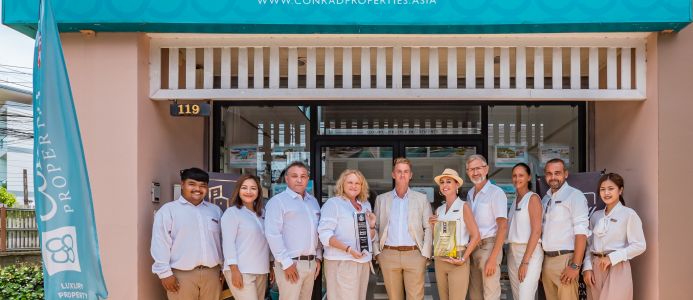 What are the earmarks of greatness when searching for the best luxury real estate brokerage or agency in Thailand? First thing's first, you should search for an agency that offers you a variety of choices in real estate.
In particular, you should get a brokerage like Conrad Properties. They're Thailand's most trusted and favored independent luxury real estate agency. They have properties in places like Bangkok, Phuket, Koh Phangan, and Koh Samui.
They handle realty deals for luxury villas, houses, apartments, condos, land investments, and bespoke developments.
An Award-Winning Thailand Agency to Boot
A good rule of thumb to follow when it comes to availing a Thailand real estate agency is to find one supported by the Thai real estate industry at large. This is certainly the case with Conrad Properties.
More importantly, as recently as 2021, Conrad Properties also won the Luxury Lifestyle Awards.
Best Real Estate Agency in Thailand in 2019: The award-winning independent Luxury Real Estate Agency was the "Best Real Estate Agency in Thailand 2019" according to Thailand Property.

Best Luxury Real Estate Brokerage in Thailand in 2021: They specifically won the Luxury Lifestyle Awards' "Best Luxury Real Estate Brokerage in Thailand 2021". This shows that they've been improving as a real estate brokerage since 2 years ago.

Commitment to Excellence: Their commitment to excellence ensures customers like you will get reliable and personalized real estate services that allow you to discover your own piece of Koh Samui paradise.
Why You Should Trust Conrad Properties
The Conrad Properties agency deals with all the intangibles such as integrity, sincerity, and transparency in order to earn customer trust and showcase to them the best possible outcomes relative to their needs. To wit:
Conrad has the best property prices available.

It's composed of an active team of multilingual agents.

Naturally, it's an award-winning luxury property agency.

Conrad Property also offers real customer service and integrity.

It has one of the best websites with quite an extensive portfolio.
You should also trust Conrad Properties as your foremost Koh Samui real estate agency because there are several good reasons why it won awards as the best Thailand luxury real estate brokerage in 2019 and 2021.
You're assured of reliable, honest, and genuine advice that doesn't pull the wool over their eyes like other realty brokers would. They look out for your best interests instead of just theirs.
Simplifying a Daunting and Confusing Undertaking
Buying property overseas can be daunting and confusing to first timers. Therefore, you should avail of the services of Conrad Properties in order to simplify the process. They enable you to take the time you need in order to make decisions sans sales pressure.
How does Conrad do this? They won the best realty agency of Thailand for 2019 and 2021 exactly because of their extensive range of Thai properties for sale. You won't have to rush because of the extensive portfolio of Conrad Properties
They have luxury beachfront villas and hillside sea-view villas for sale as well as land investments, commercial properties, and foreign freehold condominiums.
Their Secret is Long-Term Experience
Conrad's secret of success roots from their long-term market knowledge and experience. They didn't win awards left and right overnight. They did things the right way in order to build consumer trust and quality reputation.
Their reputation is built on years of sincere business acumen, a strict code of ethics, and advice that's honest, genuine, and dependable. This is why many clients of Conrad Properties end up effusive with praise for the brokerage.
Both the buyers and sellers using this brokerage service marvel at the company's ability to open the best possible investment opportunities to suit their individual requirements.
The Services Offered by the Award-Winning Conrad Properties
Conrad Properties offer the following services that prove their dedication to clients. They put the desires of their buyers and sellers on the forefront, helping both parties to end up with the most mutually beneficial agreement.
They even take care of their clients after sale completion to guarantee their satisfaction. They're always happy to hear from their valued customers for good measure.
Thailand Real Estate Services: The foremost benefit of going the Conrad Properties route in buying or selling properties is their huge portfolio of Thailand properties in Bangkok, Phuket, Koh Phangan, and Koh Samui.

Furthermore, they have a multilingual team of agents to ensure that both local and overseas buyers can get their pick of the litter when it comes to Thailand properties in a completely unbiased and objective manner.

Bangkok and Phuket Property for Sale: You won't only get free property advice and consultation among English-speaking agents who know what they're talking about.

You'll also gain access to a handpicked portfolio of luxury properties for sale in Bangkok, Phuket, Koh Phangan, and Koh Samui. You can even get them at the most competitive prices, prime locations, and premium quality.

Covid Property Discounts Avail of beachfront villas or properties in the commercial district at discounted prices. Due to the Covid-10 pandemic, Conrad has gotten their hands on Covid property discounts.

Due to uncontrollable circumstances, more and more Thailand owners have become highly motivated to sell their properties to developers keen to give access to these projects to local and overseas clients.

Land and Construction: Conrad Properties naturally offer a wide range of lands and projects in construction for sale in Bangkok, Phuket, Koh Phangan, and Koh Samui.
This is a wide range of properties that includes pretty much everything: from a slice of beachfront paradise to hillside and flatland properties with loads of potential for urban or commercial development.
If you're searching for a way to sell off or buy your own property in Thailand in an effective way, Conrad is your best bet. They won't list your property and leave it at that without bringing customers for viewings or promoting it to potential buyers.
Find Your Dream Property in Thailand
Once you go with Conrad Properties, everything about your sale and agreements will become streamlined and easy. Everything is ironed out from the get go so that you can reach an agreement that benefits you and your desire to custom-build a dream property.
Conrad Properties is the best real estate brokerage/agency in Thailand exactly because of their dynamic, award-winning approach to realty marketing that really turns heads and gets sales when all is said and done.